About
Your first stop for industrial and process water treatment equipment, services, chemicals and training. Visit our Online Store for our latest products.

Experience:
Cannon Water Technology has over 30 combined years of experience in the industrial HVAC water treatment community and can get your needs met at lower cost with faster results. They have experts to answer your technical questions including an on-site Certified Water Technologist. Cannon Water Technology is a leader in the industry and knows how to get the job done right the first time.

Contact them today and allow Cannon Water Technology Inc. start working for you

1 800 230-1426 Toll Free
1 916 304-0210 Fax
1 916 783-7232 Voice


Cooling water equipment specialists:
---
Check out the new Ultrameter II from Myron L Company.

New features include: Data Logging, and PC Support for downloading of readings to a personal computer.
---
Brand New from Lakewood Instruments

Model 140 Cooling Tower Controller

Easy to program, the Model 140 Controller menu is just like the Lakewood model 1575e controller.
Single circuit board design improves reliability.
No add-on options. 4-20 mA output and biocide features are standard.
Multiple methods of chemical feed for application flexibility.
Includes Flow Switch
---
Gain the advantage over costly downtime and equipment failures with a 24/7 watchdog keeping an eye on your systems.

24/7 Monitoring
Internet Ready, access from anywhere
Make adjustments remotely
E-mail Alarm Notification to any wireless device or PC
No software to load, use your web browser
128 Bit Encryption Security Provided by Verisign.
Multiple system capability

To learn more about the Megatron Controller and WebAdvantge "Click Here"
---
HanTron Digital Conductivity Tester

Large 5 Digit Display
Stores 20 Readings
Reads Conductivity and Temperature
1 uS/cm Resolution
0-20,000 Scale
Compact Size
Fast, Accurate Readings
PPM or MicroSiemens
---
Superior chemical metering performance.

Walchem pumps operate at speeds up to 360 strokes per minute making them one of the fastest pumps on the market. Prices start at $275.00 and come in far under the competition when compared to like equipment.

Do you need a Cooling Tower or Boiler Controller capable of talking to you over the Internet?
How about a controller that sends text messages to your cell phone?

Walchem Webmaster has it all covered. This system speaks your language and comes standard with communications and interface for building automation systems. Wireless via Cell Phone Modem is also available for less than you could put in a hard phone line.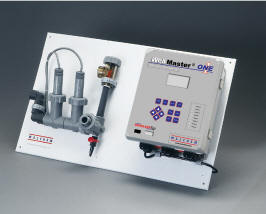 24/7 monitoring
Internet ready interface
Email and text message alarm notification
Building automation software compatible
Easy to setup and simple to operate
Data logging with email distribution
Multiple controller support over local network
Custom inputs available for any type of sensor.
Multiple water meter support
Positive flow verification system for pumps
---
| | |
| --- | --- |
| | |
| Dual BaseCooling Tower Controller with Conductivity/pH or Conductivity/ORP Built in Data Logging and Remote Programming & Communications | |
---
| | | |
| --- | --- | --- |
| | Ultrasonic level sensors and flow detection. | |
---
Insertion Meters
Turbine Meters
Mag Meters
Flow Computers
Supplier Directory Categories
Cannon Water Technology Inc. is listed in these categories:
Technical Articles