About
Their Purpose:
Why is Carlton-Bates Company in business? For them it's not as simple as to make money. Of course they have to make a profit to stay in business. But that's not the reason that they are in business. Carlton-Bates Company was founded long ago by a couple of guys who were fascinated by the automation of industrial plants, and they wanted to be a part of that revolution. They wanted to figure out "Manufacturing Excellence." That desire has not changed since day one. This is why, and will always be, why they are in business.
The Vision of Carlton-Bates Company:
To be recognized by their customers throughout North America as the leader in providing technology and creative solutions.
The Mission of Carlton-Bates Company:
To meet the changing needs of their customers by providing next generation solutions through their energy and creativity.
Their Commitment to Serve:
Carlton-Bates Company is much more than a name or a slogan. It is their customer's perception of Carlton-Bates Company. Their company is formed by their integrity, actions, attitudes and responses to their customers' needs.
That is why it is critical that the company not only understand their vision, mission and core values but that they apply them to deliver the desired customer experience.
It's their responsibility to act in a way that makes it possible for their customers to say: "It's easy for me to do business with Carlton-Bates Company." As well as "I can count on the people at Carlton-Bates Company to know, understand and meet my needs."
There are about to be TWO NEW WAYS that Carlton-Bates can give you an advantage: a new catalog and website!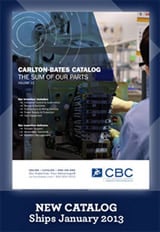 Get the catalog and enter for your chance to win one of three iPads.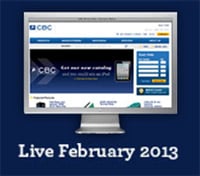 Coming to carlton-bates.com
in February:
Competitive Pricing
Real-time Stock Availability
Accessory Product Features
Photos & Spec Sheets
Customized Account Access
Purchase and Search History
Quote List Uploads
Live Chat & Tech Support
Calculated Shipping Cost
Quick Order Capability
Supplier Directory Categories
Carlton-Bates Company is listed in these categories: