About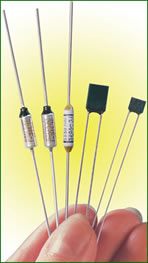 Chatham Components Inc., is a leading supplier of high quality, one-shot, non-resettable thermal cut-off fuses often referred to as TCO's, thermal protectors, thermal fuses and thermal cut-offs. Chatham Components has been providing thermal cutoffs to the electrical device manufacturers since 1983.
Chatham Components is an exclusive distributor for two of the highest quality thermal fuse brands available - the Elcut brand and the SEFUSE ® brand. The Elcut brand of thermal cutoff is manufactured by Uchihashi Estec Co., Ltd of Osaka, Japan while the SEFUSE brand is manufactured by NEC/ SCHOTT Components Corporation, Shiga, Japan. Both the Elcut and SEFUSE thermal cuffs are internationally recognized for their high quality and leading edge design technologies. They are manufactured according to ISO9001 standards, the international standard for quality assurance.
Our customers are manufacturers of electrical products that require overheat protection including home appliances, battery packs, motors, transformers, power supplies, heating and air-conditioning equipment, and various electronic devices. Chatham Components provides thermal cutoffs to electrical products manufacturers located in the US, Canada, Mexico, Central America, South America, and the Caribbean. We work with Engineers and Buyers at the manufacturers of many types of electrical components, devices and finished products.
Chatham Components Inc. is located in Lebanon NJ, USA. We maintain a huge inventory of over 3 million thermal fuses. This allows us to ship the same day in most cases. We offer personalized service and are always available to help in selecting the appropriate TCO. We pride ourselves on on-time delivery and personalized service. We can be reached by telephone (908-840-4428), email or fax (908-840-2230). We also can help in troubleshooting design issues.
Supplier Directory Categories