About
CITEL America manufactures surge protectors for AC power, telephone and RF coaxial lines. CITEL America's surge suppressors are designed to protect telecom/datacom equipment against lightning surges and electrical transients.

CITEL is now the world's third largest manufacturer of surge arrester gas tubes. All CITEL Gas Discharge Tubes use non-radioactive ceramic technology. They are ideal for the protection of Telecom and Datacom equipment against lightning surges and electrical transients. They are available from 75V to 1500V. New SMD versions are now available and all Gas Tubes are UL approved.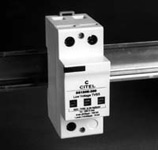 Citel is also a major supplier to the wireless industry and has developed a complete surge protection package for AC power, T1 and coaxial cables. Today's data equipment has become extremely vulnerable to voltage surges and transients. A single IC package can contain over 100,000 memory bits and more than 5,000 logic gates. The high sensitivity of the chips used in these packages makes them prone to fast degradation due to voltage surges. Their small size has considerably lowered their failure threshold. PLCs, MUXs, HUBs, RTUs, SCADA, and Telemetry equipment are especially vulnerable to electrical surges because of their sensitive low voltage data lines.
Citel Surge Protector Products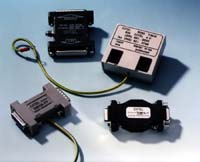 :
AC Surge Protectors
Multi-Pair Telephone and Data Line Surge Protectors
Telephone and Data Line Surge Protectors (One, Two, Three, and Four Pair)
COAXIAL Surge Protectors
DIN-RAIL Surge Protectors
LAN Surge Protectors
RS232/RS422 Surge Protectors
Category 5 Surge Protectors
Citel America, Inc. is ISO 9002 certified and its surge arresters are UL, CE, VDE approved.
Supplier Directory Categories
Technical Articles

AC Surge Protection Overview
(Surge Suppressors)
The users of electronic equipment and telephone and data-processing systems must face the problem of keeping this equipment in operation in spite of the transient overvoltages induces by lightning. (
View Full Article
)

Coaxial Surge Protection Overview
(Surge Suppressors)
Radio communication equipment deployed in fixed, nomadic or mobile applications is especially vulnerable to lightning strikes because of their application in exposed areas. The most common disruption... (
View Full Article
)