Profile Home
About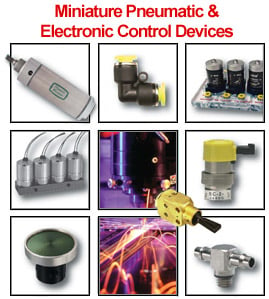 Clippard is a manufacturer of miniature pneumatic valves, cylinders and fittings. Since 1941, Clippard has not only been a leader in the field of miniature pneumatics... We invented it.
The Clippard Advantage
Clippard provides thousands of standard and special pneumatic products to design engineers and manufacturers around the world. Clippard has a unique advantage by providing standard and custom products, and value-added assemblies based on the most successful miniature pneumatic line in the world.
Clippard is well-known as a quality manufacturer. However, there is much more to the story. True craftsmanship used in the Minimatic® line is not limited by a numbers standard. Customers have long recognized the partnership they have with the Clippard organization, and have grown to appreciate the high standards self-imposed in the manufacture and testing of each valve and cylinder. Every employee at Clippard is devoted and empowered to provide you with the best product available.
Technical Articles


Modular Valve Circuits
(Valves)
These circuts show a few of the many useful ways to use Clippard Minimatic modular components in practical pneumatic circuitry. The drawings presented here are combinations of ANSI and pictorial... (
View Full Article
)