About
Crosslink is at the forefront of bringing solutions out of the lab and into reality.

Crosslink specializes in electroactive polymers, materials, and systems, and is developing progressive solutions that bring step-change advancements to a wide variety of applications. Crosslink brings its passion for scientific innovation to every aspect of its business, from initial research through product development and delivery.
Crosslink also partners with the right organizations to leverage its expertise for your benefit, bringing unparalleled knowledge and expertise in the electroactive polymer arena. As an industry leader in soluble polyaniline Crosslink is already developing applications in materials such as:
Conductive polymer materials and formulations for device enhancements in both supercapacitors and composite damage sensors, leading to significant technical improvements and cost reductions.
Specialty electroluminescent lighting – SuperFlex™ – that is durable, lightweight, easily-deployable, and highly flexible.
Smart, chromium-free anti-corrosion inhibitors and primer coatings with the ability to sense corrosion signals, then release an additive that shuts down the corrosion process, offering a much safer environmental and human risk profile compared to today's practices.
Dissipation of static electricity via transparent, conductive coatings for aircraft transparencies or electronics assembly and clean-room applications.
Cutting-edge electroactive self-detoxification coating systems for safe and complete destruction of chemical and biological agents.
Beyond Crosslink's core competencies, its highly experienced staff has authored more than 100 patents, and more importantly, brings a practical working knowledge of: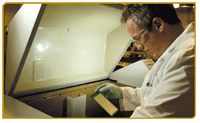 Polymerization synthesis and polymer modification
Electrostatic dissipation(ESD)
Electroplating and electro-polymerization
Formulations and delivery of actives
Screen printing on a wide variety of materials
The experience of Crosslink's scientific team, combined with its demonstrated know-how and proprietary technological solutions, provides its commercial customers and the U.S. Department of Defense the benefits of unique technology and supply capabilities.
Crosslink's management team is focused on the optimization of electroactive materials product lines delivered to exacting specifications, with operational responsiveness, in the most cost-efficient manner.
At Crosslink, they are breaking new ground and look forward to the opportunity to help you with your electroactive material application needs.
Supplier Directory Categories
Crosslink is also listed in these categories: