About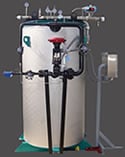 Cryogenic Experts, Inc. (CEXI) manufactures a full line of vaporizers for all types of cryogenic and non-cryogenic specialty fluids. Products range in flow rate from 100 scfh to 3,000,000 scfh, in temperature from -460F to +1500F, and in pressure from sub-atmospheric to 15,000 psig.

In addition to our standard product lines, CEXI offers custom engineering and integration solutions. CEXI has the manufacturing and engineering capabilities in house to offer our customers a wide range of solutions to meet their requirements for vaporization and related activities.

CEXI serves many marketplaces. Over the years, the uses for industrial gases have grown exponentially. Some of the common areas that we serve are aerospace/military, food and beverage, industrial applications, the electronics industry, and the medical industry.

CEXI's production facility features a 14,000 square foot manufacturing area that includes a full CNC machine shop, and ASME Code weld shop that is Section VIII, Division I qualified with U and UM stamps, a UL/CUL approved electrical panel shop, a Class 10,000 clean room and an Oxygen cleaning and test area that is capable of pressure testing to 50,000 psig. CEXI purchased its current location in Oxnard, California in April of 2003.
Supplier Directory Categories
Cryogenic Experts, Inc. is listed in these categories: