About
Custom Membrane Switch Manufacturer & PCB Assembly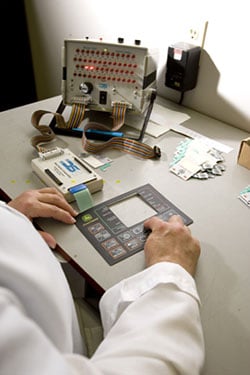 Founded in May of 1972 by Bill and Dolly Bury, the company's initial primary focus was the manufacturing of metal nameplates and screen printing. Under Bill and Dolly Bury's leadership, Dyna-Graphics evolved into a world-renowned leader in membrane switch technology. Dyna-Graphics' membrane switch technology product line includes rubber keypads, graphic overlays for membrane switches, touch screens, printed circuit boards, printed circuit board assemblies, and flexible printed circuit boards for membrane switches and rubber keypads, as well as environmentally sealed membrane switches. Dyna-Graphics' expertise is meeting the rigorous needs of its wide range of clients in a broad variety of industries.
Dyna-Graphics is ISO 9001:2000 Certified, and has also made the transition from Military Standard Specification (Mil. Std.) 105e to ANSI/ASQ Z1.4-2003 for sampling when required. In addition, Dyna-Graphics' unique ongoing long-term relationship with a highly reputable and experienced Chinese manufacturing source is further enhanced by this production facility's ISO Certification. Furthermore, all Dyna-Graphics membrane switches and overlays are RoHS Compliant.
Dyna-Graphics' rapport with its offshore source has numerous benefits for every existing and potential Dyna-Graphics customer. First, Dyna-Graphics' long-standing production association with our ISO-Certified partner assures you, the customer, that any membrane switch component, graphic overlay part, and rubber keypad product will be inspected and tested to meet your unique requirements. Second, all rubber keypads, membrane switches, graphic overlay components, touch screens and corresponding printed circuit board assemblies will be expeditiously delivered to the client's production facilities, whether located in China, Singapore or any required location. This ensures that quick JIT (Just In Time) delivery for customer production schedules are consistently met. Third, Dyna-Graphics can handle the engineering and production processes for all membrane switch technology as well as resolve any production concerns or issues – again, this is primarily the result of Dyna-Graphics' unique understanding of the language and process of the membrane switch technology industry.
Contact Dyna-Graphics with your needs today!
Supplier Directory Categories