About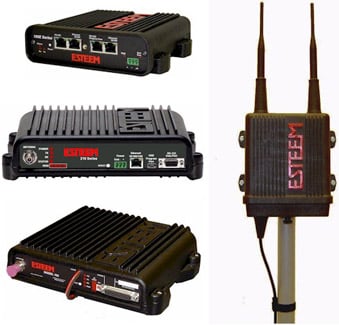 Electronic Systems Technology, Inc. dba ESTeem Wireless Modems uses its research and development, manufacturing, production, and marketing efforts to produce the ESTeem™ product line of industrial wireless modems. The ESTeem Wireless Modems are available in high speed wireless Ethernet using licensed and unlicensed spread spectrum frequency bands. ESTeem also produces licensed, narrow band radios in the VHF and UHF communication bands with both Ethernet and serial interfaces. These industrial hardened product lines provide innovative communication solutions for applications not served by conventional communications systems.
ESTeem was founded in 1982, as an electronic engineering consulting firm that specialized in instrumentation control and new product development. In 1983, the company started the development of its own products with the ESTeem, wireless modem, which led to the company becoming publicly held in November 1984. The Company was granted the U.S. patent for the "Wireless Computer Modem" in May 1987 and the Canadian patent in October 1988.
ESTeem has continued to refine its product line in response to customer needs and developing technology. The industry leader and patent holder on the wireless modem for over 30 years, ESTeem has been domestically and internationally providing proven and reliable wireless solutions for the industrial control, public safety, and federal markets. With our latest advancements to the ESTeem Wireless Ethernet line, such as the Model 195E series and high-power licensed wireless Ethernet Model 210, we will again set the standard in the wireless industry!
Supplier Directory Categories
ESTeem Wireless Modems is listed in these categories: