About

Safe. Reliable. Efficient. Clean.
Eclipse, Inc. is a worldwide manufacturer of products and systems for industrial heating and drying applications. They design and manufacture a wide variety of gas and oil burners, recuperators and heat exchangers, complete combustion systems and accessories for combustion systems. Eclipse offers its customers an excellent single source for design, installation, and service for total combustion needs, supported by expert application engineering and support services.... around the globe. Their goal is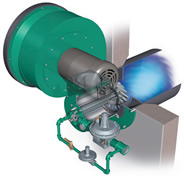 to deliver safe, reliable, efficient and clean heat to industry worldwide.
Eclipse combustion technology is prominent in the Automotive, Commercial Heating, Finishing, Food, Glass, Industrial Drying, Metals, Petroleum and Petrochemical, and Power Generation industries. Through a worldwide network of locations (regional offices in Canada, China, France, Germany, India, Korea, Mexico, The Netherlands, Poland, Spain, Thailand, Taiwan, and the United Kingdom), Eclipse combustion sales engineers provide the proper equipment and application knowledge to help customers compete in every industrialized country in the world. After the sale, the Eclipse Service team supports customers with start-up, comprehensive training, and maintenance programs.
Supplier Directory Categories
Eclipse, Inc. is listed in these categories:
Technical Articles


How much does your air weigh?
(Heating and Cooling Equipment)
Winter is here, and we are in the "THICK" of it. (pun intended) Those combustion systems in service with the cold weather are working even harder to produce the required heat. (
View Full Article
)