About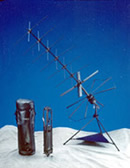 Electro-Metrics Corp. is a leading designer, producer and integrator of antennas, sensors and systems for broadband RF communications and testing. Our primary markets involve security applications relating to wireless voice and data communications (COMINT, SIGINT), technical security countermeasures (TSCM) and electromagnetic interference/compatibility (EMI/EMC) characterization and testing. Electro Metrics offers a catalog of standard products as well as custom design capability to meet changing needs, particularly for the security and surveillance markets. We were the original innovator in assembling specialized kits for unique signal acquisition missions and continue to refine and upgrade our kits as technology progresses. Today, we are developing the next generation of even more capable antennas and sensors that are simpler, lighter and packaged in the most rugged and portable case available.
We appreciate that our customers expect and demand the highest quality products. Electro Metrics manufactures its own products here in the USAat its modern manufacturing plant in Johnstown, New York. Our capability to in house manufacture and fully test our products allows us to meet the quality expectations of the most demanding customers while providing rapid response to urgent needs.
Electro Metrics manufacturing facilities have broad capability that ranges from electronic circuit board assembly to CNC sheet metal fabrication and precision CNC machining. We operate Tig, Mig and stick welding and have high temperature heat treating capability. Electro Metrics has also recently invested in a state of the art CNC waterjet cutting machine that can cut everything from foam rubber to composites to ceramics to the toughest armor plate. We not only manufacture our own products but also manufacture a broad array of machined component parts and assembled products for other companies on a contract basis. Contract manufacturing has been a growing business for Electro Metrics driven by our uniquely wide manufacturing capability.


Technical innovation and skillful complex manufacturing require special people. Electro Metrics prides itself on the expertise, dedication, and experience of its people. Many of our employees have deep industry experience and are highly skilled.
Electro-Metrics has always been highly regarded for its expert design and systems engineering for broadband RF applications and integration. Those traditions continue but new-product efforts have established Electro-Metrics as a totally vertically integrated supplier of antennas and sensors for broadband RF applications in the 10 KHz to 40 GHz frequency range and beyond. EM is now a source for cost-effective broadband sensors and systems for this entire frequency range.
Since 1963 Electro-Metrics has been a recognized source for equipment used in EMI/EMC measurements and testing. This tradition continues with antennas, sensors, probes and patented innovative continuous-ground, low-drag turntables; ancillary equipment like a line-impedance stabilization networks and a full line of accessories.
Supplier Directory Categories
Electro-Metrics Corp. is listed in these categories: