About
Engineered Lifting Systems & Equipment Inc. (ELS) exists to meet the needs of their customers. ELS designs and supplies a full range of certified overhead material handling solutions and other related equipment.
ELS provides Turnkey Material Handling Solutions to a broad range of lifting applications. ELS manufactures products including transfer carts, bridge cranes, monorails, jib cranes, gantry cranes, and work station cranes.
Transfer Carts - floor based heavy load movers. Standard and custom designs in several styles (on-rail, rail guided, steerable, towable, manual).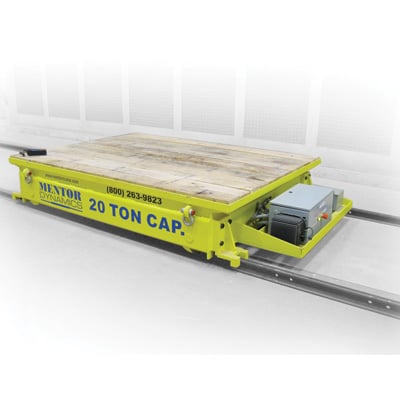 Related Lifting Equipment Products and Services from ELS:
Lifting Devices:
Hoists, Trolleys, Balancers, Intelligent Lifting Devices, Tooling Integration, Process Arms, Manipulators, Work Station Jibs, Lift/Turn/Rotate Tables, and Vacuum Lifting Equipment
Below the Crane Hook Equipment:
Spreader Beams, Lifting Beams, Lift Assists, Drum Handlers, Roll Handling Devices, and End-of-Arm Tooling
Floor Based Equipment:
Transfer Carts, Roll Handling Carts, Portable Work Platforms, manipulators
Custom Fabrications:
Carts, Fixtures & Jigs, and Specialty Cranes
Engineering Services:
Design Engineering, Load Testing, Pre-Start Health & Safety Reviews (PSR's), and Equipment Certification
Production Services:
Fabrication, Structural Blasting, and Painting
Installation Services:
Equipment Installation, Relocation and Modification
ELS also offers custom tooling services. You can source process arms, lift assist tooling, manipulators, torque reaction tools and work station arms from ELS.
Engineered Lifting Systems & Equipment Inc. welcomes the opportunity to serve you with their innovative and reliable products.
Supplier Directory Categories
Engineered Lifting Systems & Equipment Inc. is listed in these categories: