About
Flir Commercial Systems has been providing innovative instruments for test and measurement professionals since 1971. Many of these products were the first to incorporate unique features with the result that Flir Commercial Systems' meters have the reputation for providing more features, functions, and value while maintaining accuracy and reliability.
Over the years, Flir Commercial Systems has expanded its instrument offerings to over 26 major product lines including multimeters, clamp-ons, power meters, power supplies, resistance testers, thermometers, humidity meters, airflow meters, light meters, sound meters, calibrators, tachometers, printers and laboratory instruments. Many of these instruments have datalogging capability.
Flir Commercial Systems is now certified to the new ISO9001:2000 standard. Their Quality System includes greater emphasis on Quality System Management, and expanded programs for continuous organizational improvement and monitoring customer satisfaction.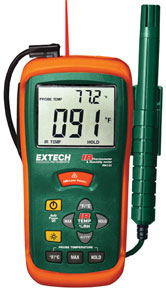 Flir Commercial Systems' products include:
Airflow Meters
Clamp-on Meters
Gas Analyzer/Tester
Humidity Meters
Lab Instruments
Light Meters
MultiMeters
Power Supplies
Sound Meters
Stopwatches/Timers/Clocks
Tachomometers/Stroboscopes
Thermometers
Water Quality Instruments
Supplier Directory Categories
Extech is also listed in these categories: