About

For 181 years Fairbanks has provided top quality industrial weighing equipment and dependable service through a network of Fairbanks sales and service representatives and authorized distributors. Fairbanks continues to break new ground in scale design, setting the new standard in weighing equipment and systems engineering while meeting the special needs of our customers.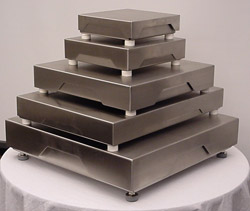 Since 1830, when Thaddeus Fairbanks invented the platform scale and founded the company that still bears his name, Fairbanks Scales has been meeting the world's weighing needs by providing our customers with the best quality products and reliable service available.
Fairbanks Scales has survived civil war, world wars, natural disasters, economic collapse, and various mergers and ownership transitions to become one of the oldest manufacturing companies in the United States.
Today, we continue to remain a leader in the weighing industry by constantly exploring advanced weighing and electronics technology. With more than 700 employees nationwide, we are dedicated to providing service and technical support around the world, whether it's in North America or the Pacific Rim. We serve every industry that weighs.
Supplier Directory Categories
Fairbanks Scales, Inc. is also listed in these categories: