About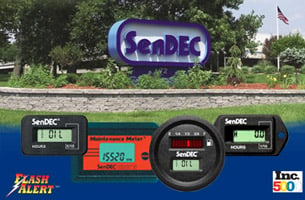 Global Digital Instruments LLC is a manufacturer of high quality digital instruments and gauges. They produce hour meters, tachometers, maintenance monitors, battery discharge indicators, volt meters, liquid fuel gauges and more.
Knowing what and when to service is the key to extending equipment life and maintaining optimal performance. Global Digital Instruments' Flash Alert service reminders make this possible.
Global Digital Instruments products are offered in various mounting styles and inputs including DC input, AC/DC input, Inductive input, Vibration Activated input, Rotating shaft input and more.
The arduous quest for perfect quality has yielded the best in class quality on the market today. All SenDEC meters are fully potted with epoxy (epoxy filled) to form a solid block that stands up to water, shock, vibration and the harshest environments and applications. Global Digital Instruments products can take it!
If you came to Global Digital Instruments for extremely high quality, high functionality and the most competitive pricing, then you came to the right place.

Supplier Directory Categories
Global Digital Instruments LLC is also listed in these categories: