About
Rotary Swaging, Tube Butting, Flaring and End Forming Specialists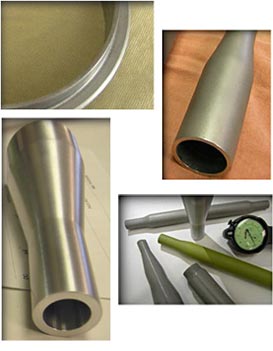 Glyne Manufacturing is a small, family-owned, metal working shop specializing in rotary swaging, end forming, flaring, and tube butting. They manufacture parts to customer specification. Clients come from the aerospace, medical, petrochemical, and commercial sectors. In addition to simple diameter reductions, gradual tapers, and end flares Glyne also creates more complicated configurations for many of their customers.
Glyne Manufacturing has been serving original equipment manufacturers as well as small machine shops since 1966. Founded by Joe Takash, the McGalliard family purchased the business in 1980. David McGalliard brought the company decades of experience in aircraft control linkage assemblies. He used his degree in electrical engineering and masters in business administration to help build Glyne into a larger and more capable enterprise. His efforts gained Glyne a host of new customers, many of whom remain loyal to the firm.
Glyne is now in its second generation of management under Bruce McGalliard, who has continued the company's evolution and growth. In 1992, the company doubled its manufacturing space to the current size of 12,000 square feet.
Protube, created under Bruce McGalliard and Tom Frei, is a separate 10,000 square foot facility that does tube butting (see Processes & Solutions). These tubes are used primarily in the construction of light weight bicycle frames.
Supplier Directory Categories
Glyne Manufacturing Incorporated is also listed in these categories: