About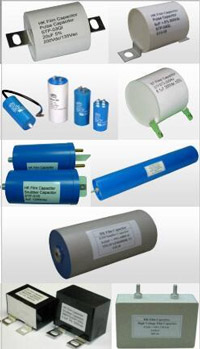 HK Film Capacitor means Stable Quality and Prompt Delivery
We have been manufacturing, designing and customizing Power Polypropylene Film Capacitors and Film Foil Capacitors for High Voltage and High Current applications since 1995.
Our engineers design various types of film foil capacitors suited for various applications. Their jobs not only concentrate on capacitors' electrical characteristic performance but also mechanical need. Different electrical connections and capacitor installation options can be provided to increase your design flexibility.
We support a wide range of capacitor package styles and terminal types for your design requirements.
Most of our Power Film Capacitors can be classified into 3 classes :
1) High Voltage Power Film Capacitors
2) High Current Polypropylene Capacitors / Heavy Current Capacitors
3) Energy Storage Capacitors
All these Power Film capacitors can be worked at 105C.
Capacitor internal temperature is increased with Frequency and Current, sometime will even higher than 85C. Rated 105C capacitors can increase capacitor long run reliability. This is importance especially for High Current Capacitors.
Our mission and goal is to achieve customer satisfaction in terms of stable quality, design flexibility, lead time reliability and competitive price.
Supplier Directory Categories
HK Film Capacitor Ltd. is listed in these categories: