About

Hitachi's wide range of experience in manufacturing has brought technological advances and greater efficiency to industry. The Hitachi Group addresses issues of energy savings and the environment that confront their clients, in industries driven by information technology and its applications. They do this by developing problem-solving products and technologies that then form the basis of the systems they propose together with advanced engineering solutions.
Supporting the world's infrastructure through advanced technology that maintains and controls transportation, air conditioning, elevators, and escalators is one way Hitachi enhances the quality of daily life. In addition, Hitachi technology helps safeguard public health with water treatment facilities and pollution control systems, as well as with the engineering of food processing facilities.
Hitachi America, Ltd., Industrial Components and Equipment Division supplies a broad range of Industrial Infrastructure products and services. The division provides sophisticated electrical and electronic industrial equipment and components for use in pharmaceutical plants, food and beverage processing, steel making, mass transit systems, chemical plants, and other manufacturing facilities.
Visit Hitachi Industrial Components and Equipment Division at Upcoming Trade Shows.
Hitachi America, Ltd., a subsidiary of Hitachi, Ltd., markets and manufactures a broad range of electronics, computer systems and products, and provides industrial equipment and services throughout North America. For more information, visit www.hitachi-america.us/industrial.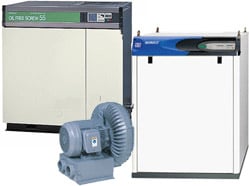 AIR TECHNOLOGY GROUP
Hitachi has nearly 100 years of experience in air compression and is able to provide the customer with proven, reliable and efficient options. Providing value via technology is the cornerstone of the Air Technology Group, leveraging the applications experience and efficiency of Hitachi inverters, motors and compressors. To fulfill requirements for a wide variety of customers, Air Purity is achieved via incorporation of Oil-Free Rotary Screw, Oil-Less Scroll & Oil-Free Vortex Blower compressor technologies. Hitachi's Air Technology Group Products are incorporated into many market applications such as medical, food & beverage, pharmaceutical, electronics, etc.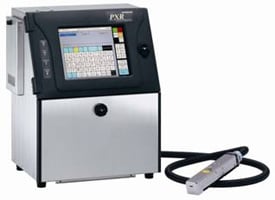 CONTINUOUS INKJET PRINTERS
Hitachi has sold more than 100,000 printers worldwide and every new generation of printer improves to meet the customer requirements worldwide. The company's newest line of continuous inkjet printers are the PXR Series and fully meet new European RoHS Directive (Restriction on Hazardous Substances, Directive 2002/95/EC). RoHS Directive prohibits that electrical and electronic equipment contains lead, mercury, cadmium, hexavalent chromium, polybrominated biphenyls (PBB) or polybrominated biphenyl ethers (PBDE).
The PXR Series deploys a 10.4" large Color TFT/LCD Touch Panel with full guidance on the screen providing easy and quick operation and maintenance. The PXR Series' unique and innovative ink circulation system helps reduce fluid evaporation and achieves a very low cost of operation. Nozzle and gutter are automatically cleaned before shut down, so no special procedures are required on start-up. PX Series viscosity and density control provides stable ink drop formation and keeps print quality high.
Hitachi raised the technology bar for marking/coding industry.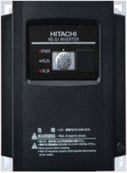 AC VARIABLE SPEED DRIVES
Hitachi's newest NE-S1 Series AC speed drives are economical and simple to use speed control inverter solutions in the popular HP range of ½ to 2 hp. The NE-S1 is designed with both OEMs and System Integrators' needs in mind with its ultra-compact design, and pre-configured for out of the box integration in most applications.
Hitachi's entire AC Variable Speed Drives Line will provide the choice to the users for proper application such as Pumps, Fans, Chillers, Compressors, Cranes, Hoists, Elevators, Various OEM Machines and more.
Other Industrial Equipment & Components
Hitachi is the leading manufacturer of Submersible Motors for Deep Well Applications.
Hitachi also supplies various products such as HVAC Compressors, Industrial Compressors, and more.
Supplier Directory Categories
Hitachi America, Ltd., Industrial Components and Equipment Division is listed in these categories:
Technical Articles