About
Indexing Technologies Inc. and ITI Tooling Company are both unique and experienced suppliers of "state of the art" major machine tool sub-assemblies and CNC lathe tooling components to a wide variety of industries throughout North America.
Original equipment manufacturers (OEMs), machine tool rebuilders & retrofitters, and end users alike have depended upon their experience, quality products and specialty services for over 20 years.
Indexing Technologies and ITI Tooling's vast array of major machine tool components are in categories such as Precision, non-lifting Hirth coupling style Indexing Tables, NC Rotary and Rotary/ Tilting Tables, Tool Changer and Storage Systems, Large Diameter Chuck and Pallet Exchanger Systems, plus they have available an immense selection of high speed indexing Tool Turrets, "B" axis assembles and Crown turrets for milling and drilling, to suit most every style of CNC lathe and special purpose machine. Their automation division specializes in supplying a wide range of Cam Driven products including Indexing and Oscillating Drives, Pick & Place units, High Speed ~ High Torque Indexers and Linear Slides all of which are typically used on assembly machines, packaging equipment and many other types of high speed automated systems. In addition, their engineering and manufacturing group design and build specialty Cams and Cam & Roller sets to suit customer requirements in all industries.
The ITI Tooling Company offers the most extensive range of top quality tool holders and live tool spindle units available, with dependable tooling solutions for most makes and models of CNC lathes and Mill-Turn Centers built around the world. In addition to their conventional live and static lathe tooling, major productivity improvements have been experienced by customers using their "Rapid Change" modular tool holding system. "Rapid Change" with its patented single lock and release device, needs only 7 seconds to exchange a tool. This system is safe and easy to use and ensures total flexibility and optimum productivity from any CNC lathe.
Other productivity boosting products from ITI Tooling Inc. include dual and quad (back to back) multiple spindle drilling units for use on sub-spindle lathes, live spindles to perform thread milling and form generating, plus other specialize application tooling.
At Indexing Technologies and ITI Tooling, their specialists are ready to share their knowledge and experience with clients and together find the most economical and productive solutions to meet or exceed the application requirements.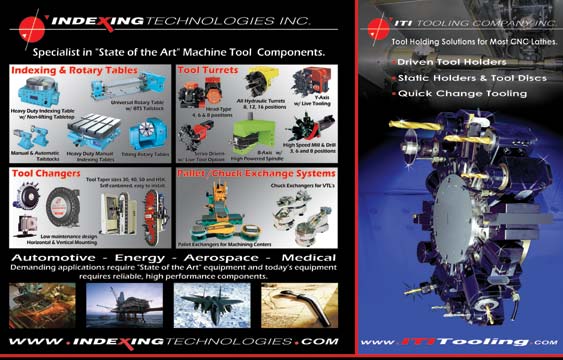 Supplier Directory Categories
Indexing Technologies, Inc. - ITI Tooling Co., Inc. is listed in these categories: