About
Industrial Gas Technology, Inc. has proven that customer satisfaction is our top priority with our existing domestic and international customers. We have over 80 years of experience, and offer reliable assistance to our customers in both the sales and technical service aspects of the industrial pump and compressor industry. We have built great relationships with our customers and continue to prove that Industrial Gas Technology, Inc. will bring exceptional value to any project.

As a full service distributor for all of the products we sell, we are a complete factory trained, authorized, and recommended service center for Corken pumps and compressors, Blackmer pumps and compressors, as well as other makes and models.

Along with Industrial Gas Technology's sales capabilities, we also offer superior factory authorized and recommended service for Corken compressors and pumps, Blackmer compressors and pumps, and Sero pumps. Our unmatched technical service experience has made Industrial Gas Technology, Inc. the top service center for Corken and Blackmer compressors and pumps in North America. We've traveled across the United States, Canada and Mexico resolving technical issues and repairing equipment to keep customers' plants operational. Our service ability is the post-sale value that only Industrial Gas Technology, Inc. can offer.

Industrial Gas Technology's service speaks for itself. We put a guarantee on our service work and make our repair and rebuild services available both in house and on site. All compressors and pumps rebuilt at our in house service department are fully tested to assure trouble free startup. We have developed an extremely fast and efficient system for equipment repair, which prevents long repair lead times and serves our customers in the best possible way.

To ensure proper equipment installation and technical assistance, Industrial Gas Technology, Inc. offers startup services. We work closely with customers to make sure that equipment has been installed properly and is prepared to begin trouble free service. Our representatives have experience with a wide range of systems, along with hands on repair of the equipment. This guarantees the best possible service to the customer.

Industrial Gas Technology's large inventory helps us to serve our customers with fast turnaround times on rebuilds of compressors and pumps. We are a factory authorized service center for Corken Compressors and Pumps, Blackmer Compressors and Pumps, Sero pumps, and Puma Air Compressors.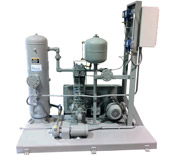 Industrial Gas Technology, Inc. offers a variety of Compressor and Pump packages. From base mounted Compressors and Pumps with motors to Turn-Key Compressor and Pump skid mounted packages, we are capable of supplying everything our customers need.
We have aligned with excellent engineering and construction firms to further assist our customers through every aspect of their project.
Our packaging capabilities coupled with an unmatched service offering, further asserts Industrial Gas Technology, Inc. into a leading role in our industry.
Supplier Directory Categories
Industrial Gas Technology, Inc. is listed in these categories: