About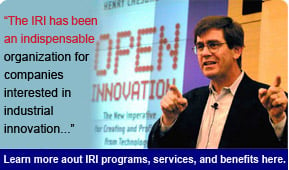 This year marks IRI's 75th year of creating innovation leadership solutions. The full name of IRI is the Industrial Research Institute. The mission of IRI is to enhance the effectiveness of technological innovation by networking the world's best practitioners and thought leaders to seek, share, learn and create. IRI is the nation's only cross-industry, cross-function association of companies and federal laboratories working together to improve their research and development capabilities.
IRI strives to deliver outstanding value to members by:
Providing insight and actionable learning into R&D's best practices;
Creating networking opportunities with technical leaders; and,
Quickly disseminating knowledge in appropriate formats.




The Industrial Research Institute offers memberships to both private sector companies and federally funded laboratories. There are more than 200 companies and labs who are current members. Learn more about IRI membership, view a list of members and find a membership application.



Each IRI event is developed to strengthen the understanding of critical business issues among technology leaders, provide actionable learning into R&D best practices, and foster a community of networking. Plan now to attend an upcoming event and sharpen your performance.



Two main core values of IRI membership are the peer-to-peer transfer of knowledge and the research on best practices in technological innovation. The key vehicles for participating in this learning-rich environment are the IRI Networks and Research-on-Research (ROR) Working Groups. Together, participants share their experiences and research case studies to establish Best Practices regarding common issues of interest or concern.



Since 1938 IRI has been publishing innovation and R&D management papers and meeting synopses. "Research-Technology Management," IRI's journal, has been at the forefront of R&D publications for over 50 years. IRI?s Research-on-Research program has been developing best practices and management tools for 35 years. Today, IRI is developing one of the largest and most important collections of documents, journals and publications related to R&D in the "Collaboration" and "Library" sections of their website.
Supplier Directory Categories
Industrial Research Institute is also listed in these categories:
Technical Articles

IRI's 2012 R&D Trends Forecast
(Technical Communications)
The Industrial Research Institute's (IRI) 2011 survey of member companies suggests a general optimism about R&D investments for 2012. This year, 104 companies across a broad range of industries... (
View Full Article
)

IRI's 2013 R&D Trends Forecast
(Technical Communications)
Results from the Industrial Research Institute's Annual Survey IRI's 2012 trends survey results suggest that R&D leaders are anticipating a year of weak yet stable growth. The Industrial Research... (
View Full Article
)