About
Solid as the Products They Make
With a commitment to product innovation that dates back more than a century, Irwin Car and Equipment is in a strong position to help companies meet their rail- and rubber tire-based material handling needs for mill and mining applications. As a leader in designing, manufacturing, re-building and repairing heavy-duty material handling equipment, Irwin Car is also committed to supplying industries with state-of-the-art mining tools and filtration and ventilation products, and to designing and manufacturing tracks and switching systems for industrial and mass transit applications in their fully automated 70,000 + sq.-ft. facility in Irwin, PA, located 25 miles from Pittsburgh.

Their Industrial Sales Group specializes in the design and manufacture of standard and custom industrial wheels and wheel assemblies that can handle 100+ tons per wheel in applications ranging from transfer cars to gantry-type overhead cranes to walking beam reheat furnaces to new prototype equipment. Irwin also designs custom industrial cars in AC, DC battery, diesel or propane powered self-propelled configurations, as well as non-powered idler models that can handle loads of more than 500 tons.

The Mining Sales Group is the champion of heavy-duty underground rail haulage, and has long been recognized as the most experienced designer and manufacturer of high capacity, low-profile equipment carriers and a broad array of spare parts to keep your operation on track.
Their Irwin Mine and Tunneling Supply supports all underground mining and tunneling operations with a complete selection of air compressors and pneumatic & hydraulic drills, cutting equipment and hand tools. They also carry belt winders, mobile bases and fans, filtration systems and spare parts.

In their Spare Parts Division, Irwin offers wheels, axles, bearings and complete assemblies, as well as standard and custom crane wheels engineered to your specific application.
Irwin Car and Equipment continues to grow with a vision of increased service to the markets they serve. Over the last several years, Irwin has strengthened its ability to support your operational requirements through the following acquisitions.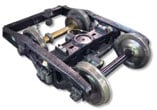 The Atlas Car product line adds the service, support and heavy-mill expertise of the former Division of Bliss-Salem. Atlas Car has been known throughout the primary metals industry as the leader in heavy-duty ladle, scrap and transfer cars for more than a century, and brings both proven design experience and deeper steel mill market exposure to Irwin Car.
Their subsidiary, Phillips Group, has been an industry standard for nearly 140 years in the design of mobile material handling equipment, "under hook" auto-dump and scrap buckets, and especially rubber-tired steerable trailers and transfer cars.
Supplier Directory Categories
Irwin Car and Equipment is also listed in these categories: