About
JG&A Metrology Center is a specialized lab focused on providing 3D internal part inspection services using Industrial CT Equipment.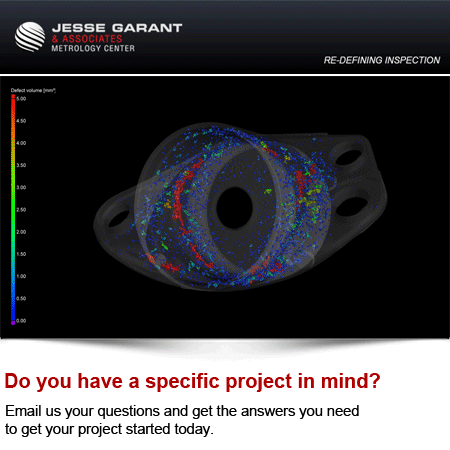 By utilizing our non-destructive Industrial CT (Computed Tomography) Scanning Services, clients are able to drastically reduce preproduction inspection costs and analyze internal failures quickly and accurately in 3D. The NDT process allows for improved quality control without modifying the part or applying external measurement forces during inspection. For both large and small projects, each part is inspected to the highest quality standards. As the process is new to most clients the company's expert analysis always ensure each customer is educated, comfortable with the inspection process, and satisfied with the results.
Some key types of analysis are: porosity, void, Volkswagen P-201/VW 50097 cross sectional analysis, P201/VW 50097 porosity analysis, part to CAD comparisons, part to part comparisons, reverse engineering, wall thickness, GD&T, fiber analysis, and assembly analysis. 2D X-Ray, cross sectional x-rays, and real time xray are also available.
For more information contact us at www.jgarantmc.com
Take the next steps...

Have a question?
Contact us today to discuss any questions you have before requesting a quote. Our experienced staff is able to get you the answers you need today! E-mail sales@jgarantmc.com

Involve Your Team
Give us twenty minutes of your time and we'll show you exactly what Industrial CT Scanning is and how it can specifically work for your project. Request a webinar, E-mail sales@jgarantmc.com

Ready to Begin
Please let us know your project's objective, type of material, size of part, and quantity of parts to inspect. Include pictures and prints if possible. Request a quote, E-mail sales@jgarantmc.com
Supplier Directory Categories
Technical Articles