About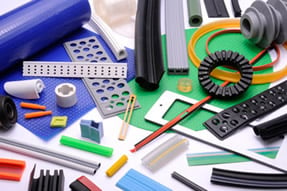 Lauren Manufacturing is a solutions provider of custom engineered seals & gaskets. Lauren is a full service extruder and molder of organic, silicone rubber as well as the full range of thermoplastics and other specialty polymers.
Lauren is not just another rubber and plastic supplier; we believe in the power of innovation and are committed to the exploration of new materials and manufacturing techniques. Lauren is vertically integrated with sophisticated global supply partners and sister divisions, LMI Custom Mixing and Lauren Plastics. Combined, this makes Lauren your Single Source Supply Partner, a Collaborative Technical Expert and a Strong Global Supply Network.
Lauren's goal is to anticipate, meet, and then exceed our customers' expectations. Our dedication to this goal is evident in the array of worldwide industries that we serve:
Markets

Agricultural
Air Filters
Automotive
Building & Construction
Drum & Barrel
Electronics

HVAC
Lighting
Marine
Window & Door
Renewable Energies
& More
Lauren Mfg. controls every step of the manufacturing process from raw material development, design, process optimization and final packaging. By partnering with a solutions provider like Lauren Manufacturing, you receive engineering design support and materials development to meet your toughest application.
Thermosets (Sponge & Dense)

Thermoplastic (Flexible & Rigid)

EPDM
Neoprene
Nitrile
Silicone
Polyisoprene
Polyurethane
Fluoroelastomer
Fluorosilicone

Capabilities

Extruded
Molded
Lamination
Dual & triple-durometer extrusions
Large & intricate parts
Rubber to metal bonding & fabrication
Vibration dampening & testing
Water jet cutting
Color Match
Custom Printing

TPU
TPV
PVC
Polyolefin
EPP/EPE
Polypropylene/Polyethylene
Nylon
Other Engineered Plastics

Cutting
Die-cutting
Drilling
Laser etch printing
Notching
Punching
Slip-coating
Splicing/Welding (Orings/Frames)
Stamping
Striping
Quality assurance is a central focus in all phases of production at Lauren Manufacturing. Through strict adherence to QA policies and a Lean Manufacturing philosophy, they strive to continuously improve materials and processes – to always deliver the best product possible.
Certified To:
ISO 9001:2000 w/ Design
ISO 14001: 2004
ISO/TS 16949
EN12793 (Europe)
CSTB (France)
With almost 50 years of exceptional performance, Lauren Manufacturing's material expertise, extruded and molded parts are a core competency from which our company has grown. We have invested nearly half a century of industry knowledge, ingenuity, operational excellence and application analysis into every inch of our material and product expertise. It's this passion, careful attention to quality and customer attentiveness that makes Lauren the industry leader in polymer seal and gasket solutions.
Visit us at: www.lauren.com or call today at: 800.683.0676
Supplier Directory Categories
Lauren Manufacturing Co. is listed in these categories:
Technical Articles

RMA Tolerances
(Seals)
Selecting the right seal or gasket for a specific application involves knowing the answers to many questions about what your requirements might be. To help you in this process, the following tables... (
View Full Article
)

Compression Set and Deflection Tests
(Calibration and Testing Services)
The term compression set test is the amount, measured in percentage, by which a standard rubber test piece fails to return to its original thickness after being subjected to a standard compressive... (
View Full Article
)