About
Dedicated to Keeping Your Systems Running All of the Time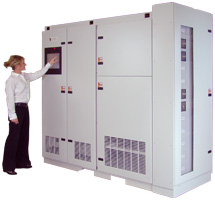 LayerZero Power Systems designs and manufactures the world's most reliable and technologically advanced data center power distribution products, including Static Transfer Switches, Power Distribution Units, and Remote Power Panels.
LayerZero Power Systems is leading the industry with an array of premium features designed to offer security and protection to mission critical power system operators, such as infrared thermal scanning ability with dead-front doors closed, finger-safe fully enclosed busses, and fail-safe interlocks built into the breaker operations.
LayerZero Power Systems systems are well connected, offering source and load power quality data collection, forensic waveform captures to allow operators to precisely identify where faults occur, and remote web-enabled monitoring. The technologies in LayerZero products ensure maximum power availability for sensitive loads by eliminating outages that occur when power fails.
Designed specifically for critical operations, LayerZero products maximize uptime and availability by ensuring that the power distribution infrastructure is extremely reliable.
Supplier Directory Categories
LayerZero Power Systems, Inc. is also listed in these categories:
Technical Articles