About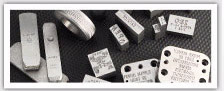 Your source for custom metal tags, nameplates, cable ties, metalphoto®, decals, labels, engraving, marking dies and stamps and more.
Metal Marker Mfg provides FAST on-time delivery of custom products - since 1923! Metal Marker's ISO 9001 + AS9100 Certified Quality Management System, Fortune 500 company award winning quality and delivery, easy ordering and knowledgeable Customer Service Representatives makes Metal Marker your source for identification products and services.

Metal Marker is registered with the Directorate of Defense Trade Controls (DDTC) as required by the International Traffic in Arms Regulations (ITAR).
Metal Marker offers a wide variety of identification solutions including proprietary processes not available elsewhere. Examples include:
Metal Marker's Customer Service Representatives have extensive training and years of experience. Contact us today to obtain a free quote or to work with you to develop the solution to best meet your identification requirements.

Be sure to check out our latest Blogs, learn about the Metal Marker Advantage, and Photo Gallery to get some inspiration for your next project!

Supplier Directory Categories
Metal Marker Manufacturing, Inc. is also listed in these categories:
Technical Articles