About
Thinking Big About Measuring Small Things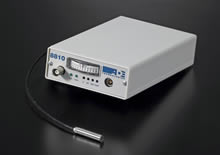 MicroSense is the leading supplier of high resolution capacitive position sensors. Previously known as ADE Technologies, MicroSense has supplied high resolution capacitive sensors since 1967. The company provides customers with state-of-the-art measurement performance for demanding high resolution, non-contact position sensing applications. MicroSense also supplies vibrating sample magnetometers for magnetic property measurement. MicroSense serves a host of industries including semiconductor equipment, data storage, machine tool, precision motion control and automotive. MicroSense provides customer value and security, through extensive business experience, financial strength, world-wide support, and technical leadership.
Capacitive Sensors for High Resolution Position and Displacement Measurement
Based on patented capacitive sensing technology, MicroSense offers the widest range of non-contact capacitive position sensors in the industry, in order to meet exact application requirements. Sensor performance is optimized for high stability and linearity, or, highest resolution and measurement bandwidth.
All MicroSense® position sensors feature:

Completely non-contact capacitive position measurement - the most accurate electrical sensing technology available
Detection of any conductive, grounded target – surface finish or material have no effect on accuracy
Optimized for short measurement ranges –10 micrometers up to 4 millimeters, depending upon sensor size
High accuracy, fast response
Award Winning Vibrating Sample Magnetometers for Magnetic Measurement
The MicroSense magnetic metrology business was started as Digital Measurement Systems (DMS) over 25 years ago, and continued as a part of ADE Technologies since 1997.

The MicroSense Vibrating Sample Magnetometer is the easiest to use and most sensitive VSM available:

Measure the moment and coercivity of thin films.
Study the magnetic properties of liquids, powders or bulk samples.
State-of-the-art accuracy in absolute magnetic measurements.
Unmatched flexibility - suitable for measuring samples with a very low coercivity as well as samples with high coercivities.
Unrivaled real-time field control system, low noise performance - makes measurements possible on samples that can not be measured in other commercial electromagnet based VSMs.

MicroSense vibrating sample magnetometers are available in several models with a variety of capabilities, field ranges, resolutions and options.
Supplier Directory Categories
MicroSense, LLC is also listed in these categories:
Technical Articles