Profile Home
About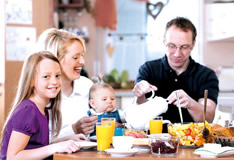 We make daily life safer
Minebea Intec provides products, solutions and services to the food industry for increasing the reliability, safety and efficiency of production and packaging lines. This we give evidence through our promise to our customers and consumers: 'We make daily life safer.'
Our core market position, that of a leading global product and solution provider together with our aim to set strong standards in all areas of our business, are both reflected in our company motto: 'The true measure'.
We have more than 147 years experience in supporting the industry to ensure that manufactured goods have the right quality and do not contain any foreign bodies. Our ability to do this, is based on the 'German Quality' of our products and services combined with our continuous investment in developing leading technology. As a result, tens of thousands of customers put their trust in our company, having allowed us to supply them with millions of products and solutions during our long history.
Via our world-wide presence, we stand beside our customers around the globe and through the whole life cycle of our products and solutions: from assistance with selecting the right equipment, design-in support, installation & calibration and maintenance & repair services up to realising equipment upgrades and refurbishments and providing user trainings.