About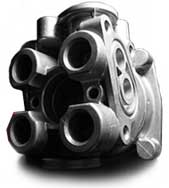 Headquartered in Wheeling, IL, The North American Die Casting Association (NADCA) represents the voice of the die casting industry, on behalf of more than 3,100 individual and some 300 corporate members in the United States, Canada and Mexico. NADCA is committed to promoting industry awareness, domestic growth in the global marketplace and member exposure.
Industry Representation
NADCA represents the die casting industry in congress and legislative matters, provides its member base with bi-monthly magazines, offers discounted trade publications, technical books, research and statistical reports as well as educational programs and training tools.

Most recently, NADCA has added two new features for the advancement of the die casting industry in North America. For OEMs specifically, NADCA offers a free in-plant value analysis. This service allows a die casting specialist to assist OEMs with the use of die castings on new projects and the conversion to die castings for existing products. In addition, NADCA offers an online resource at www.diecastingdesign.org to help with optimizing die casting product development and design. This site offers video modules containing tutorials on optimizing die cast design, development, and manufacturing, as well as purchasing topics, casting specs, commercial practices, and database resources.
Supplier Directory Categories
North American Die Casting Association (NADCA) is listed in these categories: