About

Nefab's focus is simple; providing cost effective complete packaging solutions that reduce your company's total costs while minimizing environmental impact.
For example, did you know the Nefab ExPak plywood crating solution, featured to the right, weighs 40% less than the standard wooden crate? Imagine the freight savings you could achieve when charged per pound by logistics companies! ISTA tests conclude that although the packaging is made of a light weight material, the Nefab ExPak is just as, if not stronger, than standard nailed wooden crates.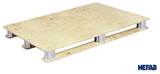 And Nefab does more than just wooden crates – they offer complete solutions, which can include customized inner packaging materials such as: corrosion and moisture protection, load securing, and even shock and environmental indicators – and these are just some of the options they can provide to ensure your product arrives in pristine condition.

With facilities in 35 countries across the globe, and over 40 in-house packaging engineers, Nefab is in the unique position to offer their customers the opportunity to standardize or customize their packaging globally. Imagine the cost savings!
Nefab looks forward to the opportunity to learn more about your company, how your products go from design to destination, and pending they are a good fit, show you cost saving opportunities they do with other global players.
Supplier Directory Categories
Nefab Companies, Inc. is also listed in these categories: