About
Nikon is a world-renowned brand, firmly established as a market leader in optical instrumentation and the only microscope company to manufacture its own glass, ensuring the very finest quality assurance throughout production. With over 90 years expertise in the field, Nikon has always been at the forefront of optical and technological innovation, promoting creativity and trustworthiness as part of the company's global mission statement.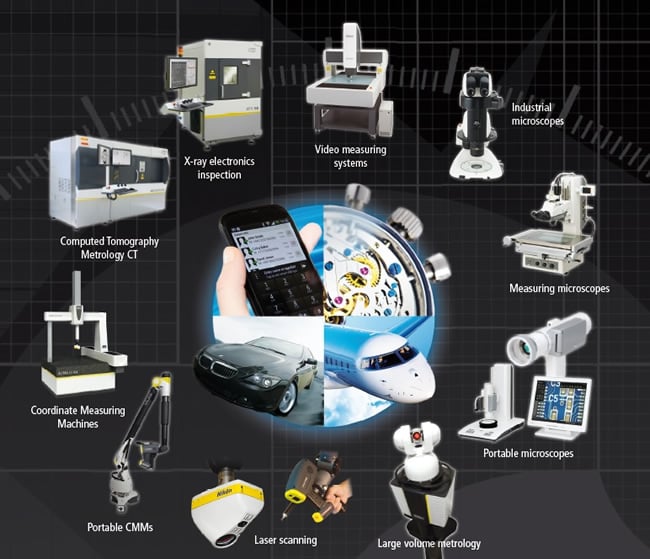 Following products lines are now available in the portfolio:
CMMs / Portable arms /Optical CMM
Nikon Metrology provides best-in-class precision equipment and metrology solutions for use on CMMs and articulated arms CMMs.
Optical CMMs are portable, hand held coordinate measuring machines, with a proven track record in engineering, preproduction and quality control applications.
Next-generation digital LC and XC laser scanners confirm market leadership for CMM-based laser inspection, offering full surface and feature measurement.
Digital ModelMaker 3D scanner are ideally suited for use on articulated measuring arms, serving a variety of inspection and reverse engineering applications.
The HN-6060 multi-sensor 3D metrology system provides fast, high-precision, non-contact inspection of complex shapes with tactile accuracy.
The X-ray and CT inspection systems provide detailed insight into the internal structure of parts.
Typically used for inspection of loaded PCBs, compact castings and plastics, these imaging systems facilitate the detection of connectivity failures, material defects and assembly issues.
CNC video measuring systems from Nikon Metrology's cover precision optical and digital imaging systems for inspection and non-contact surface inspection, reconciling high precision with maximum productivity.
Microscopes / optical inspection systems
Measuring microscopes focus on industrial measuring and image analysis, designed for complete digital control for maximum measuring accuracy.
Industrial microscopes (stereo, upright, inverted) serve a wide range of visual inspection application. Recently added to the microscopes portfolio is the portable ShuttlePix offering users to simply grab the instrument and take images and measurements anywhere needed.
Rugged optical comparators are built to provide bright crisp images of an incredible range of specimens, whereas autocollimators provide exceptional measuring accuracy and reliability in demanding measurements, such as flatness or height by simple geometry.
Large scale measuring / positioning
The Laser Radar is a top large-scale metrology solution available to the manufacturing industry, performing fully automated, non-contact measurement and inspection up to 60 meters.
The iGPS is a modular, large-volume tracking system used in manufacturing and assembly, enabling factory-wide localization of multiple objects with metrology accuracy.
Nikon Metrology also provides a full range of complementary software solutions for CMM and point cloud based inspection and reverse engineering applications.
The product portfolio is completed with a vast range of support, metrology and integration services.

Supplier Directory Categories
Nikon Metrology is also listed in these categories: