About
OSG has traditionally maintained a powerful marketing presence in manufacturing industries including automotive, mold and die, and aerospace. OSG also supplies products to energy-related industries including the shipbuilding industry, construction equipment industry, as well as to the manufacturers of precision equipment, such as medical devices.

OSG is determined to achieve continuing growth by contributing to the advancement of manufacturing industries worldwide, and by continuously working to enhance customer satisfaction.


U.S. headquarters in Glendale Heights, Ill.
MAJOR PRODUCTS
| | | | | |
| --- | --- | --- | --- | --- |
| Taps | Drills | End Mills | Rolling Dies | Indexable Tools |
OSG is dedicated to precision manufacturing of taps, end mills, drills and thread-making tools. OSG's world-class R&D facilities and laboratories are staffed by highly trained engineers, all dedicated to developing the highest quality products using environmentally friendly processes.
OSG offers an extensive line of High Technology cutting tools designed for use in today's most aggressive conditions. These premium tools feature exclusive metallurgy, cutting geometries and unique surface treatments. The surface treatments help to increase productivity, reliability and tool life while reducing machining time, scrap and down time.
OSG also offers a complete line of thread-rolling, flat, cylindrical, planetary and trim dies, which are made of the best available die steel in the world. More than 700 styles and sizes are available for immediate delivery.
U.S. CORPORATE GROUP:
| | | |
| --- | --- | --- |
| Manufacturing Facility in Ill. | OSG Regrinding Facility in Bensenville, Ill. | Sterling Die, Inc. |
OSG operates independent manufacturing facilities worldwide, including three in North America.
GLOBAL NETWORK: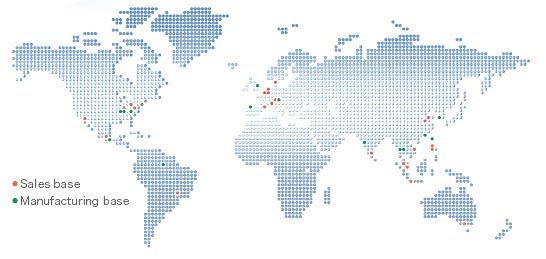 OSG has manufacturing facilities in 13 countries that provide high-quality products under a rigid global quality assurance system.
The OSG organization is dedicated to the development and supply of high-added-value products and services that meet today's demand. OSG develops products for use with new materials, including diamond tools used to process carbon fiber materials. OSG also uses advance grinding technology to provide regrinding services, and have developed new coating technologies to reduce the environmental impact of manufacturing.
Supplier Directory Categories
OSG is listed in these categories:
Technical Articles