About


30 Ton Chain Hoist
IN STOCK

Award winning OZ Lifting Products, designed by their partners from Australia, are committed to providing safe, high quality, and affordable material handling equipment to their customers, with dedication to excellent customer service and support. The Aussies have direct oversight on all aspects of manufacturing and technical support, combined with all of their hoists being rigged in their warehouse in the U.S. OZ Lifting has complete quality control. Their products have been successfully handling material on the world market for many years; they offer an innovative line of tough, all-steel chain and lever hoists featuring overload protection and meet all products standards such as CE, AS1418.2, ANSIB 30.21and ANSI B30.16. Beam clamps and trolleys are also available.

Many features and benefits which are not found on standard hoists make OZ products the safest on the market. Some of these benefits include:

RIGGED IN THE USA
Standard overload protection
Each hoist is individually triple tested and certified
Etched stainless steel ID tag ensures long lasting rating identification
Lifting the rated load is up to 35% easier

OZ Hoists have been engineered to be durable and safe, a commitment to their customers.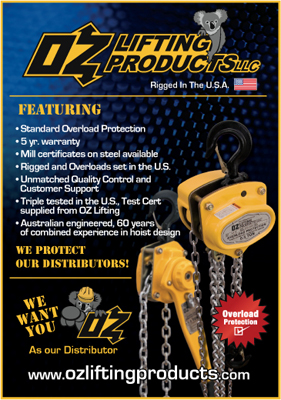 OVERLOAD PROTECTION is standard on all hoists .5 ton and up and is factory set. The overload is integral with the hoist and prevents the operator from overloading the hoist. When activated, the overload will not allow hoist operation. When the overload is activated, lower the load (if lifting), or release the load (if pulling). Then select a larger capacity hoist, or contact a lifting specialist for another means of operation. This eliminates the repair cost associated with an overloaded hoist, making the OZ hoist a safe and sound investment.
Masterfully engineered, the OZ hoist requires 20-30% less effort to operate at the rated capacity making it easier to lift heavy loads. Every OZ product is load tested at 150% of the rated capacity and is triple tested to ensure reliability and repeatability. All OZ products come with a test certificate and serial number dedicated to the individual product and come equipped with a durable stainless steel tag.
You will enjoy learning more about the rest of the features and benefits of the OZ line.
OZ Lifting Products Overload Protection Made Affordable.
For Tech Support please call: 507-457-3346
Supplier Directory Categories