About
Stability & Accuracy
PLX products are used in world wide applications like FTIR spectroscopy, laser tracking, environmental monitoring, beam delivery systems, boresighting and more. Our M.O.S.T technology combines complex optical set-ups into one efficient monolithic unit.
PLX Military experience includes major programs such as the M1 Tank, The Tow Missile upgrade and the Arrowhead Program for the Apache Helicopter. PLX's superior optical assemblies maintain their accuracy under the extremes of combat conditions.
PLX's space heritage dates back to the Apollo-Soyuz mission of the 1970's and continues today with projects like the Jet Propulsion Labs' Thermal Emission Spectrometer launched on the EOS satellite, as well as the Retroreflector Array for NASA's Endeavor Shuttle and more.

| | |
| --- | --- |
| PLX provides unique stock and custom optical instruments, technologies and solutions to problems of achieving and maintaining state-of-the-art optical accuracy and stability under severe environmental conditions. Our M.O.S.T.™ technology integrates complex optical elements into compact monolithic structures to achieve these objectives. | |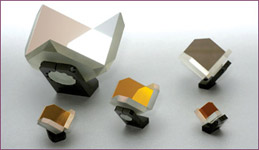 PLX products and systems are available in a wide variety of materials, mirror coatings, special metals, sizes and configurations. PLX is a registered ISO 9001 company, is fully compliant with ISO requirements, designs and manufactures products that meet Military Specs and has received over 20 patents for its innovative optical products.
You'll find PLX instruments in such diverse applications as spectroscopy, boresighting, beam alignment and delivery, ultra-fast phenomena research, laser delay lines, military fire control, environmental monitoring, satellite ranging and laser resonators.
Regardless of your application, PLX engineers, who are specifically trained and experienced in optical, laser and imaging systems, will work closely with you to adapt PLX technology to your requirements.

Because the company's superior optics withstand extreme combat and harsh environmental conditions while maintaining accuracy, PLX has been a valued optical technology source for the Military and Space industries for over 4 decades.
Supplier Directory Categories
PLX Inc. is listed in these categories:
Technical Articles

A Monolithic Interferometer
(Optical Components)
When two separate bundles of parallel light beams having the same characteristic wavelength and propagation are combined, the combination of the bundles causes a phenomenon called light interference. (
View Full Article
)