Profile Home
About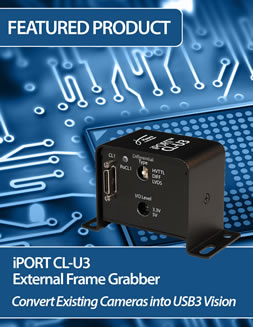 Pleora is the world's leading supplier of video interfaces for system manufacturers and camera companies serving the military, medical, and industrial automation sectors. The company was formed in 2000 and has gained a well-earned reputation for technology leadership and innovative video interface products.
Pleora revolutionized the machine vision industry by pioneering the development of frame grabbers and embedded hardware for the delivery of video over Gigabit Ethernet (GigE), and we lead the market in video interfaces for USB 3.0. We are committed to open, global standards for high-speed video applications. We co-founded and continue to play a key role in the widely adopted GigE Vision® standard, and we contribute substantially to the GenICam™ and USB3 Vision™ standards.
Markets Served

Manufacturers rely on our products, standards expertise, and systems knowledge to bypass development and integration complexities in a diverse range of demanding real-time imaging applications — from C-arms for image-guided surgery and vetronics systems in military vehicles, to quality inspection of flat-panel TVs.

Advantages for Computer Vision Systems: Our products and expertise ensure reliable real-time imaging performance in cameras and automated inspection applications, including new installations and system retrofits.

Real-Time Video Networking for Military and Security: Vision systems are playing an increasingly important role to help improve battlefield surveillance and intelligence. Pleora's video interface products and expertise ensure real-time imaging performance while addressing cost, scalability, and interoperability requirements.

High-Bandwidth Video for Real-Time Medical Imaging: Pleora's real-time video expertise solves complex connectivity challenges for medical imaging systems that must process, analyse, and display high-bandwidth video with extremely low latency or delay. We help manufacturers deliver new systems that are intuitive and easy-to-use, or retrofit existing installations to deliver new levels of performance without sacrificing capital investments.



Technical Articles


FAQ: What is AI?
(Industrial Computing)
In this brief Q&A, Pleora artificial intelligence engineer Wassim El Ahmar provides some of the basics on AI. (
View Full Article
)