Profile Home
About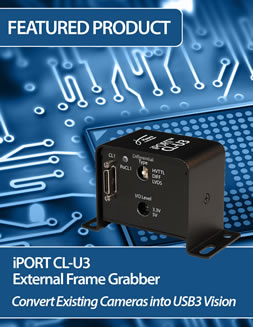 Global manufacturers rely on Pleora's expertise in AI, real-time sensor connectivity, and rugged networking to shorten time-to-market, reduce risk, and lower costs. Established in 2000, the company serves over 1500 active customers in the industrial automation, medical imaging, and security and defense markets. Headquartered in Ottawa Canada, Pleora has 75 employees in research, sales, and support locations in North America, Europe, and Asia.
Pleora's AI solutions for inspection include an intuitive "no code" software platform that simplifies algorithm development, edge processing to streamline deployment, and a fully integrated camera-based system to automate manual inspection. Our AI expertise is proven in consumer goods, manufactured parts, food & beverage, and print & packaging applications.
Our machine vision automation solutions speed the design of sensor-to-display connectivity and high-performance imaging solutions for real-time industrial, medical, and defense systems.
The company's rugged networking and AI expertise helps designers deploy automated and rapid decision-making to imaging systems operating in harsh environments.
Markets Served
Manufacturers rely on our products, standards expertise, and systems knowledge to bypass development and integration complexities in a diverse range of demanding real-time imaging applications — from C-arms for image-guided surgery and vetronics systems in military vehicles, to quality inspection of flat-panel TVs.
Advantages for Computer Vision Systems:
Our products and expertise ensure reliable real-time imaging performance in cameras and automated inspection applications, including new installations and system retrofits.
Real-Time Video Networking for Military and Security:
Vision systems are playing an increasingly important role to help improve battlefield surveillance and intelligence. Pleora's video interface products and expertise ensure real-time imaging performance while addressing cost, scalability, and interoperability requirements.
High-Bandwidth Video for Real-Time Medical Imaging:
Pleora's real-time video expertise solves complex connectivity challenges for medical imaging systems that must process, analyse, and display high-bandwidth video with extremely low latency or delay. We help manufacturers deliver new systems that are intuitive and easy-to-use, or retrofit existing installations to deliver new levels of performance without sacrificing capital investments.
G
Technical Articles


FAQ: What is AI?
(Industrial Computing)
In this brief Q&A, Pleora artificial intelligence engineer Wassim El Ahmar provides some of the basics on AI. (
View Full Article
)