About

To strengthen our international activities as well as our operational customer and service support the Board of Directors of Protect-Air AG has decided to merge Protect-Air AG with TRI-MATIC AG, Switzerland. Since the beginnings of Protect-Air AG TRI-MATIC has been the manufacturer of the Protect-Air products.
As of November 1, 2012 the brand Protect-Air shall be under the umbrella of TRI-MATIC AG.

The merger brings benefits to both our customers and the two companies. By combining complementary products customers will gain more product options with an efficient and attractive service on handling technical and other operational issues. As of November 1, 2012 please direct orders, technical or operational requests directly to TRI-MATIC.
Mr. André Gut at TRI-MATIC has been appointed "Key Operation Manager."
Direct Phone: +41 (41) 781 15 05 I Fax: +41 (41) 780 03 60 I E-Mail: gu@tri-matic.ch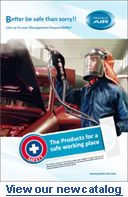 He and his team are ready to support you. They have a broad technical and organizational background and have been with TRI-MATIC for many years.
The reorganization shall provide Mr. John F. Lehd more time to focus on international sales and marketing activities. He shall continue to be your key partner on any sales and/or marketing issues. As usual requests on quotations, new projects, sales or marketing issues shall be directed to Mr. Lehd. During the transitional period it would be useful to copy Mr. Lehd on orders, requests etc., enabling the team to ensure a smooth execution of the activity in question.
Should you need any further information on the above please do not hesitate to contact Mr. Thomas Marx, General Manager of TRI-MATIC AG - tm@tri-matic.ch or Mr. John F. Lehd, Director of Protect-Air AG jfl@protect-air.com .
Supplier Directory Categories
Protect-Air-by Tri-matic AG is also listed in these categories:
Technical Articles