About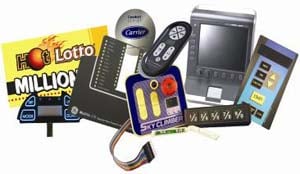 RSP, Inc. is a trusted source for manufacturing solutions with over 50 years of experience designing and producing superior products. As a family owned business, their focus is customer satisfaction and success. They partner with high volume global consumer product companies, demanding medical suppliers, and help small start-up companies realize their potential.
RSP's sales and production facility in the US specializes in world class customer service and small production runs. Their prototype options and flexible production methods bridge the gap between product introduction and mass production.
RSP's production facilities and strategic partnerships in Asia provide high quality low cost manufacturing and assembly. Their dedicated Shenzhen, China, office provides engineering support, on-site facility inspections and audits, a testing lab, and a variety of other functions which improve lead times, negotiations, and quality.
RSP provides superior service to every customer.
Membrane Switches & Keypads

Membrane Switches
Elastomer Keypads
Plastic Keys & Keypads
Assemblies
Copper Flex Circuits
3D Modeling

Printed Graphics

Screen Printed Labels
Four Color / Offset Printing
Embossing
Textures / Dead Fronts
UV Rated Outdoor Labels
Laser Cutting
EL Lamps / Backlighting

Contract Manufacturing

Turnkey Assemblies
Design & Engineering
Touch Screens
PCB (Printed Circuit Boards)
Plastic Injection Molding
Wire Harnesses
Supplier Directory Categories
RSP, Inc. is also listed in these categories: