About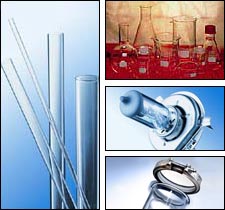 SCHOTT North America, Inc. - Glass Tubing is one of the leading manufacturers of glass tubing and rod worldwide offering tailor made products and services for international growth markets. Those markets include electronics, fiber optics, lighting, pharmaceutics and laboratory and industrial design.
SCHOTT's Glass Tubing division produces more than 60 different types of glass in an extremely wide range of dimensions. The physical and chemical properties of each glass type are designed to allow for use in numerous different applications. Whereas some types may be designed exclusively for one particular task others are very versatile in their range of application.
Click here to learn more from SCHOTT's Special Glass Selector.

SCHOTT Glass tubing is the perfect material to solve even the most demanding customer requirements for industry and environmental technology. The exceptional corrosion resistance of SCHOTT Glass Tubing makes it ideal for chemical waste piping, engineered process systems & applications ranging from heat exchangers to chemical plant engineering .

The properties of SCHOTT Glass are invaluable in environmental systems such as Concentrated Solar Power (CSP), tubular photovoltaics, solar collectors and photobioreactors.

SCHOTT Glass Tubing also offers extensive know-how regarding the post processing of glass tubing and rod after is has been formed. The Glass Tubing division offers a broad range of capabilities in both cold and hot processing to rework the finished glass according to customers' specifications. A few examples of these capabilities are highly precise glass cutting; the manufacture of components for laboratory acid waste systems, heat exchangers and solar plants; as well as tempering and annealing.
About SCHOTT
SCHOTT is an international technology group with more than 125 years of experience. We rank as number one in the world with many of our products, which include components and systems made from specialty glass and materials. Our core markets are the household appliance, solar power, pharmaceuticals, electronics, optics, transportation and architecture industries.We are committed to managing our business in a sustainable manner and supporting our employees, society and the environment.
Supplier Directory Categories
SCHOTT North America, Inc. - Glass Tubing is listed in these categories:
Technical Articles