About
Senscient was founded in January 2004 by Mr. Lee Richman, to develop, manufacture and market advanced gas detection products for industrial safety, environmental monitoring and process control / analysis applications. The technology developed by Senscient to meet the demands of these applications is "Enhanced Laser Diode Spectroscopy," a truly revolutionary gas detection and measurement technology.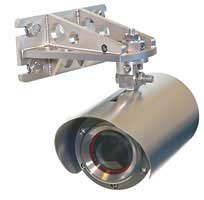 The advantages of ELDS™ technology compared to the currently available gas detection technologies include open path detection of both toxic and flammable gases by a single unit, remote electronic functional testing of detectors (Simu-Gas™), no un-revealed failure modes, high sensitivity, and significantly reduced installation and maintenance costs.
Enhanced Laser Diode Spectroscopy (ELDS) is protected by a strong IPR portfolio, including four UK patent applications and a consolidated international patent application. Senscient's ELDS patent portfolio was reviewed by the UK Patent Office as part of The Department of Trade and Industry's (DTI's) assessment of the company's application for a SMART Research & Development (R&D) Grant. This review contributed to Senscient winning a SMART R&D Grant in July 2004, to "Prove Enhanced Laser Diode Spectroscopy for the Sensitive Detection of Hazardous Gases." This R&D project has enabled Senscient to prove its ELDS technology and to move forward with product commercialization in 2008.
Safety is everyone's business, and the company's Commercialization Partners are helping them to help future Senscient customers gain new reliability in plant and facility monitoring. THANK YOU to participating Senscient ELDS Trial Partners, including Shell E&P USA, BP Alaska, Enterprise Products, Conoco Phillips Alaska, Lyondell Refining, Shell UK, Shell E & P USA, BP Illinois, Exxon Mobil, Baytown TX, DOW Ternuzen, Valero, Petrobras Brazil, Shell NAM.
The Senscient Team - Innovation + Expertise + Market Savvy
Mr. Richman, Senscient's Managing Director, has extensive experience in the design, regulatory approval, manufacture and support of gas detection equipment. He is joined by a number of experienced personnel from within the gas detection industry, many of whom have worked together as a team in the past. The Senscient team has a very clear vision of the future of line-of-site gas detection and are determined to bring products to market to significantly improve the way their customers protect property and personnel.
Supplier Directory Categories
Senscient Inc. is also listed in these categories:
Technical Articles