About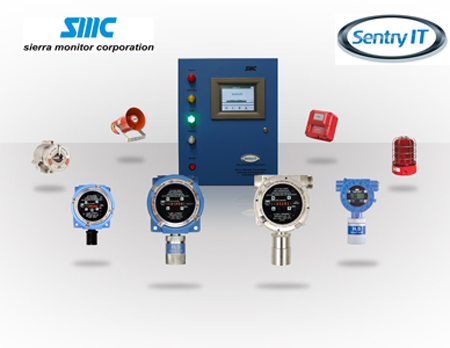 Sierra Monitor Corporation, a public corporation, has over 30 years of experience designing, manufacturing and supplying intellligent hazardous fire and gas detection systems worldwide. From inception, Sierra Monitor has combined information and instrumentation technologies to provide comprehensive solutions required by instrument and safety engineers to protect life and property. This focus on data and technology also led to the development of the FieldServer protocol gateway that enables machine to machine interoperability in industrial and building automation applications.
Intelligent fire and gas detectors with controllers provide timely status enabling safety professionals to react quickly to changing conditions. From the first Sentry controller released in 1986 to today's powerful Sentry IT System, Sierra Monitor has been a leader in intelligent hazardous gas detection systems, smart single-point fixed gas detectors and a broad range of flame detectors.
Fire and Gas Detection Systems - used in a wide variety of industries, including chemical/petrochemical, wastewater treatment, transportation and oil and gas industries. Sierra Monitor is widely known as a technological leader in gas detection systems.
FieldServer Technologies Protocol Gateways - trusted interoperability solutions capable of interfacing devices and networks even if using different communication protcols.
ProtoCessor - protocol coprocessor from FieldServer Technologies is an OEM solution for product designers to incorporate an embedded solution to provide output to widely accepted protocols.
With almost 25 years of industry experience and more than 15,000 installations worldwide, Sierra Monitor is an industry leader in their fields:
First to utilize a microprocessor-based controller for area safety monitoring.
First to use digital two-way communication between the controller and the sensor for improved diagnostics, easy one-person calibration and multiplexing configuration.
First to use Modbus serial communication to enable the hazardous gas detection system to link to the plant-wide DCS.
First to provide the building automation industry with a universal protocol gateway supported by an extensive library of drivers for open systems and legacy devices
First to provide the telecommunications industry with a comprehensive facilities environment controller
First to provide a LANServer interface to a hazardous gas detection system
Sierra Monitor places a high priority on training the sales team to be responsive to all customers. Manufacturers' representatives and regional sales managers worldwide have the industry and application skills to match products with your specific needs. After installation, the same team members have product operation skills to assist you with operator information and problem solving requirements.
Supplier Directory Categories
Sierra Monitor Corporation is also listed in these categories: