About
SRP is the industry leader in custom fabrication and die-cutting all non-metallic materials into custom parts and components.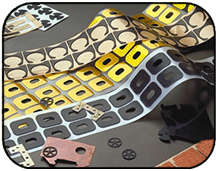 For over 60 years SRP has provided companies in a diverse set of industries with custom die-cutting services, fashioning materials into predefined shapes and sizes using customer specified materials.
SRP Service Specialties Include:
By delivering total customer service and solutions Standard Rubber stands out as a leader in custom die-cutting, gasket fabrication services. SRP provides both the latest in precision cutting equipment and technologies as well as ISO 9001:2008 manufacturing practices to ensure top quality material fabrication.
SRP's dedicated team of engineers are ready to assist you with your next project and provide you with the expertise and quality materials for parts and components that meet your exact specifications.

Supplier Directory Categories