Profile Home
About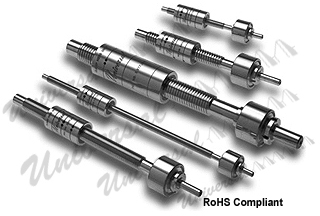 Universal Thread Grinding Company, located in Fairfield, CT, USA, offers high quality lead screw assemblies for precision, linear positioning applications.
Universal Thread was founded in 1946 to meet the needs of regional manufacturers by providing a wide range of customized thread grinding services. Development of expertise in manufacturing precision lead threads guided the evolution of our current product lines of precision lead screw and nut assemblies. For over 25 years the Universal lead screw assembly has been used worldwide, meeting the most demanding requirements.
Our precision lead screws eliminate many unwanted side effects common to less exacting products.
Building the best lead screw assembly is Universal Thread's only mission. Whether you specify a standard product from our extensive stock, or require a customized product, you will get the full attention of our experienced staff.
Call us to discuss your specific requirements. Our Connecticut plant is fully stocked and ready to respond to your most immediate needs. We offer our years of experience, attention to detail, personal service, and on time delivery.
Unmatched Performance
Universallead screw assemblies offer lead accuracies to 10 microinches/turn, 25 microinches/inch, the best in the industry. Our standard lead screws (leadscrews), stocked for immediate delivery, offer you lead accuracies of 50 microinches/turn, 100 microinches/inch. Our dual thrust lead screw assemblies, containing two thrust bushings, allow users to execute equal and opposing linear motion with one drive system. All Universal lead screw assemblies are RoHS Compliant.
Ease of Installation
To simplify many applications for lead screw assemblies, Universal offers precision mounting brackets and lead screw cartridges. Users now have a practical alternative to designing, machining, and assembling their own mounting components.
Immediate Delivery
Order Universal standard lead screws in 1/4", 1/2", and 3/4", diameter screws. Our 3/4" lead screw offers increments of travel to 31".