About

Founded in 1991, Vibrant Technology is a leader in developing tools for post-processing vibration and acoustic test data. Vibrant Technology software is used by structural testing and machinery maintenance professionals in a wide variety of industries including:
Automotive
Aerospace
Power Generation
Paper Mills
Chemical Plants
Steel Mills
Semiconductor Manufacturing
Sporting Goods Manufacturing
Construction Equipment
Upcoming Events

42nd Turbomachinery Symposium
George R. Brown Convention Center
Houston, TX USA
October 1 - 3, 2013


The primary products of Vibrant Technology are the ME'scope series of software products for analyzing vibration and acoustics problems in structures, and the newly introduced MechaniCom Machine Surveillance System. ME'scope is designed to aid engineers and technicians working on vibration and acoustics troubleshooting, new product research and development, predictive maintenance, manufacturing quality control, and monitoring of critical machines and structures. ME'scope is also the heart of the MechaniCom Machine Surveillance System, which gives operators the ability to monitor the health and operating condition of their critical machinery from the plant floor, their desk, or on the go. Both ME'scope and MechaniCom are available worldwide through a network of sales representatives and OEMs.
Vibrant's principals have a total of 80 years experience in the design and development of testing and analysis systems.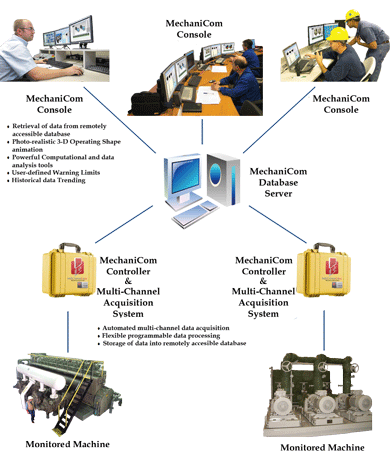 It's Your Perfect Choice
Looking for 24/7 health monitoring of your rotating machinery and equipment? Vibrant Technology has a low-cost solution with the flexibility to handle all of you needs . . . the MechaniCom Machine Surveillance System. Attach this portable acquisition system to any machine, and plant operators can wirelessly view both real-time and recorded operating data from any machine in your plant using MechaniCom's unique interactive graphics. MechaniCom uses the acquisition and post-processing capabilities of ME'scopeVES, with an easy-to-use graphical interface for displaying operating data on a 3-D model of each machine. In addition to vibration, other monitored parameters such as temperature, pressure, strain, voltage, current, and flow rate are displayed directly on the 3-D machine model.
The features of MechaniCom include:
Baseline operating data is kept for each monitored machine, and compared with current operating data in real time, 24/7.
Color-coded Alert, Alarm, and Abort levels can be set on each monitored channel, and are uniquely identified on the 3-D machine model.
Red-light / green-light graphics on the 3-D model indicate when a warning level has been exceeded, thus providing a quick visual check of all monitored equipment.
Email notification can be provided to maintenance personnel when a machine fault condition is detected.
Latching capability allows the gauge of a monitored channel to be locked until the machine fault has been remediated.
All operating shapes are stored in an archival database for graphical trending and detailed post-analysis of a machine fault.
When a fault condition is encountered, sampled time or frequency data can also be archived and used for diagnosis of the fault.
Supplier Directory Categories
Vibrant Technology, Inc. is also listed in these categories:
Technical Articles

INTRODUCTION TO OPERATING DEFLECTION SHAPES
(Engineering and Scientific Software)
Mode shapes and operating deflection shapes (ODS's) are related to one another. In fact, ODS's are always measured in order to obtain mode shapes. Yet, they are quite different from one another in a... (
View Full Article
)