About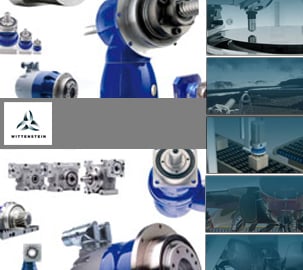 WITTENSTEIN's mechatronic solutions and alpha gear reducers are at the core of successful servo applications, offering the most reliable and creative choices for designers of high performing production equipment.
The innovators in servo gear technology, WITTENSTEIN continues to be the most advanced - making machines run faster, more efficient and more productive. WITTENSTEIN's portfolio includes precision gear reducers, couplings, rack & pinion systems and linear/rotary actuators for any level of application.
Products like the compact and precise TPM+ servo actuator and the all-in-one mechatronic ternary® are only a few of the ground-breaking solutions coming out of the WITTENSTEIN engineering facilities.
WITTENSTEIN solutions are used in applications for alternative energy, robotics, packaging, life sciences and aerospace. WITTENSTEIN products are everywhere – from satellites miles above the earth to crude oil extraction miles below.
WITTENSTEIN looks forward to making you successful through motion. Find out more about their company and their solutions online at www.wittenstein-us.com.
Supplier Directory Categories
WITTENSTEIN, Inc. (formerly alpha gear drives) is also listed in these categories: