About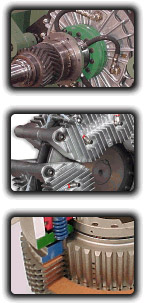 Wichita Clutch was originally founded in 1949 to be the sole supplier of clutches to Wilson Manufacturing for their line of drilling and service rigs. In 1954, Wichita Clutch was incorporated and became a division of Wilson Manufacturing. This was the beginning of Wichita's efforts to sell clutches and brakes to OEM's, machine re-builders and end-users.
In 1961, our sister facility in Bedford, England, Wichita UK, was started as a joint venture between Wichita USA and United Flexible Metallic Tube. Wichita UK has been manufacturing a wide range of Wichita air operated friction clutches and brakes ever since.
Wichita UK is accredited to ISO 9001 and ISO 14001 quality and environmental standards and approved by various ship classification societies. Wichita quality control doesn't end with manufacturing though - our service and support continues long after installation with a help line available 24 hours a day every day of the year.
Through a network of distributors and agents, Wichita, USA is responsible for sales and service in North, South and Central America. Through a network of affiliates, Wichita, USA handles sales and service in Japan and Southeast Asia. Partnering with a network of sales offices and distributors, the Bedford sales team is responsible for sales, service and marketing to all countries outside North & South America and Japan.
Superior Products
Through continuous investment in CAD design stations, EDS I-DEAS 8 software package for 3-D modeling, CNC machining centers and Finite Element Analysis (FEA). These tools are used to ensure maximum customer value and consistent high quality in a range of products and services second to none.
Outstanding Customer Service
With advanced computer technology, extensive inventory capabilities and a comprehensive network of distributors, Wichita and Industrial clutch has the most experienced customer service personnel and outside sales representatives working to ensure our customers get what they need when they need it.
Quality Policy
The people of Wichita Clutch are committed to providing products and services at a level of quality that meets or exceeds the expectations and requirements of our Customers and to continually improve the effectiveness of our Quality Management System. Measureable Objectives based on this Policy have been established to focus our process methods on meeting our quality levels. Performance to these Objectives is periodically reviewed with adjustments to our processes made when necessary.
Supplier Directory Categories
Wichita Clutch is also listed in these categories: