About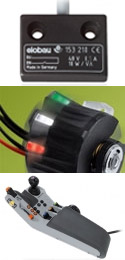 elobau is one of the world's leading manufacturers of non-contacting sensor technology and has representatives in more than 28 locations around the globe. Our customers in industry and vehicle manufacturing profit from our flexibility in development and our reliability in production. Flexibility, customer-orientation, quality, promptness and superior service will continue to guide elobau's efforts in the future.

The sensors, safety controller units, joysticks and joystick grips, buttons, tilt switches, angle sensors and vehicle components are manufactured at elobau's facilities in Germany. With a total of around 30 subsidiaries and distribution partners worldwide, elobau guarantees the customer a high degree of flexibility and speed in the processing of orders as well as comprehensive service.

The components of elobau's product range can be organized in four main fields of business:
Automotive engineering | Machine safety | Filling level measurement | Sensor technology.

Profit from our flexibility in development and reliability in production. Why? Because flexibility, customer orientation, quality, speed and service effect the way we think and act, both today and in the future.
Supplier Directory Categories
elobau U.S., Inc. is also listed in these categories:
Technical Articles

Complete Safety for Machine Operation
(Safety Sensors and Switches)
It makes a major contribution to machine safety and- thanks to the CAN open field bus system- reduces considerably the need for cabling. It's the eloSafe Machine Safety System from elobau GmbH which... (
View Full Article
)

News Machine Safety
(Safety Sensors and Switches)
At present a great deal of uncertainty is coming up about the new machine safety standards - the ISO 13849-1, IEC 62061 and the IEC 61508 for machines and plants. Nobody knows which standard will... (
View Full Article
)