About
Solutions for Manufacturing, Assembly and Repair

Permabond is a leading provider of adhesive solutions to industry world-wide.
Permabond's advanced team of application engineers, chemists, technical experts,
and product development specialists understand that your product designs are
unique, and your adhesive requirements are too.

Their Science Equals Your Success.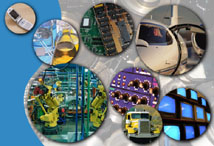 Permabond Engineering Adhesives are a result of decades of research and development, adaptation, and integration into thousands of applications. Throughout their company history, Permabond's skilled engineers have successfully responded to their customers' specific assembly requirements.
The Permabond Applications Engineering Team's focus is the same as yours: reducing costs, improving production efficiency, and optimizing your product's end-use performance. Their team will work with you throughout the process, from product concept to production, to integrate Permabond Engineering Adhesives into your design.

Supplier Directory Categories
Permabond is listed in these categories: