About

The Power Behind Your Process
Since 1955 Wilden has been the market leader in air-operated-double-diaphragm pumps. Wilden is deeply committed to the pursuit of excellence, customer satisfaction, research & development and market knowledge. As a premiere organization, Wilden has the infrastructure, knowledge base, and intellectual capital to exceed customer expectations worldwide.
Wilden's intense efforts to develop new technology and listen to ever changing market dynamics gives them the ability to solve your tough pumping applications today. Their knowledge base combined with new technology will give you confidence when selecting a trustworthy solution for your process.
Wilden, the Power Behind Your Process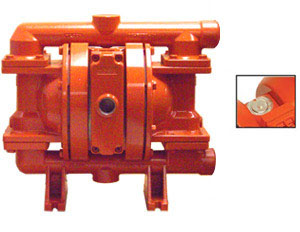 The Wilden Pump is available in various sizes ranging from 6 mm (¼") to 203 mm (8") allowing for optimum flow rates. A wide variety of construction options are available to meet virtually any application requirement. The Wilden pump can handle pressures up to 221bar (3,200 psig) and temperatures to 176.7° C (350° F). Liquid path materials of construction include: aluminum, cast iron, stainless steel, alloy C, polyethylene, polypropylene, PVDF, carbon-filled (acetal, polyethylene, Teflon®, PTFE) Teflon® PFA, and PTFE.
Wilden's line of pump accessories enhance and protect your liquid process as well as add value to it. Whether you need a surge dampener to minimize pressure fluctuation, or an electronic controller to automate your pumping process, these accessories allow your Wilden pump to maximize your pumping process.
Supplier Directory Categories
Wilden Pump & Engineering, LLC is listed in these categories: