About
"Our value is in our willingness to listen to the problem and design an action plan for each customer that contacts us."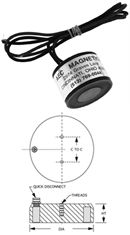 AEC
has been designing and manufacturing magnetic solutions to production problems since 1961. Each year we manufacture thousands of standard and custom designed electromagnets, DC power supplies, permanent magnetic assemblies and tools, and other specialty equipment. Our value is in our willingness to listen to the problem and design an action plan for each customer that contacts us. You will not find more personalized service or attention to detail in our industry. We sell direct to our customers and through carefully selected resellers to provide a continuous channel of communication from conception through service after the sale.
AEC's
Web site only represents a sample of our capabilities. New products are constantly added to solve our customers' problems. We can design and build one piece for a prototype or custom tool or thousands of pieces to incorporate our part in your finished product. AEC can also repair our products, and many of our competitors' products, for substantial savings in time and money. We are competitive in price and delivery with any other magnetic products manufactured throughout the world. AEC products are durable and reliable, and we provide the best warranty and return policies in the industry.
At AEC, we don't sell products, we manufacture solutions.
Supplier Directory Categories
AEC Magnetics - OH is listed in these categories: