About
| | |
| --- | --- |
| | The Airtec story began in 1975 with a revolutionary component that made pneumatic and solenoid valves subjected to high mechanical loads considerably stronger and easier to maintain – the Airtec -Ring. A small but beautiful solution that became the driving force and direction to the future orientation of the company. And even today Airtec is pursuing the same goals: the production of high-quality and technically ambitious products well beyond normal standards. And where better to pursue those goals than deep in the south of Germany, the home to production since the very beginning? |
This was where the company's owner, Dirk C. Dammann, who still directs it today, found the ideal conditions and the skilled employees necessary to evolve the basic range into successful and innovative products. He is now supported by a team of more than 140 employees at two German locations. From simple pneumatic controls to customer specific solutions incorporating the latest electronic technologies Airtec offers a comprehensive product range. A high degree of flexibility enables the company to react quickly and efficiently to meet customers' needs.
Products include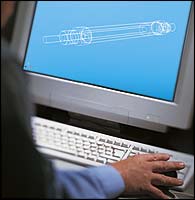 :
| | | | |
| --- | --- | --- | --- |
| • Pneumatic Devices | • Drilling Units | • Piston Valves | • and Much More! |
Quality as a philosophy

Clients from all industries – from the standard machinery and processing industries to robotics, high-tech machine tools, aerospace and semi conductor industries– put their trust in Airtec quality. The underlying idea behind what they do is to offer the user high-quality products – in a timely manner, without complications, at market-oriented prices. In order to work to the highest standards in every respect, a pervasive quality assurance system was introduced throughout the whole company. Their specialists are selectively provided with in-house and external training. In production too the standards set are high: the CNC machining centers are kept up to date at all times and have to prove their efficiency day after day in a grueling round of inspections.
Production of the highest standard

Production and assembly not only determine product quality; it's also where the ability to react to changing requirements becomes paramount. That applies not only for the machinery, but also and above all for the skill and dedication of the work force. Airtec's highly qualified employees in production ensure that every Airtec product is produced with an uncompromising level of quality, regardless of whether it is a part from the catalog or a customer-specific solution. The production facilities are commensurate with that aim: Mechanical production mostly uses the latest in CNC machining centers to secure a consistently high quality and to keep pace with the steadily rising production figures for their customers worldwide. Automation of assembly, designed with an eye to flexible processing for widely differing components, not only has a cost-cutting effect, but also further enhances the operational dependability of Airtec products. All of this is accomplished while adhering to the latest ecological guidelines throughout the company.
Research and development

Your success is a never ending challenge for Airtec. Because the most important impulses for product innovation come from the individual requirements determined by the users. Airtec specialists always listen closely to the market, and they take the ideas they hear to the R & D-department. As soon as they are received, the ideas are analyzed, refined, and converted into competitive products. Airtec engineers not only have many years of experience, but are also continually inspired by the feedback they get from practical users. There is a direct route from the CAD layout to the delivered system at AIRTEC. Short decision-making channels, close cooperation between the development and production staff, and thorough function and performance checks, quickly turn an idea into a high-quality feat of engineering.

AIRTEC is always on the top of evolving market trends, so you can be assured that you are using the latest innovation to improve your own products.
Supplier Directory Categories
AIRTEC Pneumatics Inc. is listed in these categories: